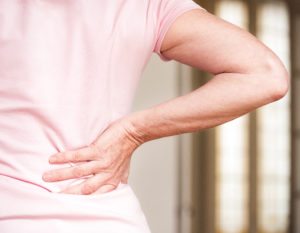 Low back pain is a common complaint, afflicting four out of every five physical medicine patients.  This common complaint can have a variety of causes, including: an accident or injury, a pulled muscle, or a damaged disc.  Sometimes these can be caused by something like improper lifting or bending. It is extremely important that the root cause of the pain be accurately determined in order to decide upon the best course of action for low back pain treatment.
Treatment for low back pain has traditionally included rest, hot and cold packs, pain medication or muscle relaxants, and physical therapy.  Surgery is employed as a last resort when low back pain treatment fails.  Unfortunately, Failed Back Surgery Syndrome (FBSS) is common, leading to patients to experience a recurrence or even worsening of symptoms after a year or two has passed.
People who suffer from low back pain can find relief through physical medicine practices, including low back pain exercises, massage therapy, physical therapy, and more. After a thorough examination, medical experts at American Physical Therapy in Scottsdale, AZ are able to develop a treatment plan for each patient in order to help patients find low back pain relief so that they can achieve optimal wellness and a higher quality of life.
Want to learn more about how American Physical Therapy may be able to help you overcome low back pain?  Please give us a call today to schedule your free consultation!