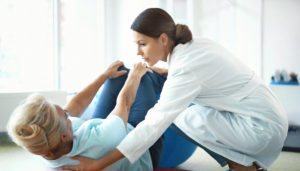 Sciatica is a condition that results in pain radiating along the sciatic nerve, which runs from the lower back, through the hips and down the legs. Usually only occurring on one side of the body, sciatica can stem from many different conditions and experiences. Sciatica causes include compression of the sciatic nerve by a herniated disc or bone spur, as well as accident and injury. In addition to pain, symptoms of sciatica include:
Numbness and/or tingling in the extremities
Muscle weakness
Sensations of prickling
Loss of sleep
Limited mobility
With the correct treatment, sciatica leg pain can be easily alleviated. American Physical Therapy has many treatment options available, including physical therapy and massage. Giving each patient a thorough examination makes it is possible to determine the best course of treatment to bring nerve pain relief for patients suffering from sciatica.
Want to learn more about how American Physical Therapy may be able to help you overcome sciatica leg pain?  Please give us a call today to schedule your free consultation!