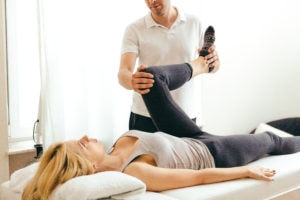 Often, by the time a person seeks medical pain relief, they are in desperate need of help. Chronic pain can be debilitating, and can greatly interfere with day to day activities. While medication can treat pain symptoms, it's important to find a medical professional who is interested in addressing the root cause of the medical concerns in order to provide lasting pain relief results.  At American Physical Therapy in Scottsdale, each patient is thoroughly examined and a treatment plan is devised, striking a balance between natural healing through physical medicine treatments and medical pain relief.  By seeking to deal with the cause of the problem, rather than simply treating the symptoms, American Physical Therapy is able to help patients find chronic pain relief from:
Back pain
Headaches/migraines
Herniated/injured discs
Joint pain
Low back pain
Neck pain
Shoulder pain
Arm pain
Sciatica
And other chronic pain conditions
Want to learn more about how our medical pain relief services at American Physical Therapy may be able to help you overcome pain and injuries?  Please give us a call today to schedule your free consultation!